Posts for tag: dentures
By M. Kenneth Johnson, DMD, PA
December 26, 2021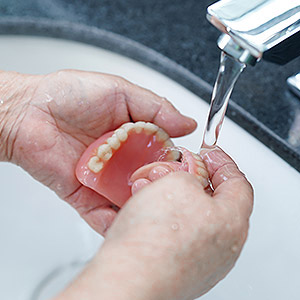 Today's dentures are more comfortable, more functional and more life-like than ever before—so much so that you might forget you have them in. Even so, dentures do have some downsides, and constant wear only amplifies those.
Our biggest concern is the effect dentures can have on bone health. Older bone is constantly replaced by newer bone, and the forces generated while chewing help stimulate this new growth. When a tooth is lost, however, this growth stimulus vanishes with it for that area of the bone. This may result in a slower growth rate, which can eventually lead to lost bone volume and density.
Dentures can't restore this lost stimulus, and may even make the situation worse. That's because traditional dentures rest on the bony ridges of the gums where the teeth once were. This can put pressure on the underlying bone, which can accelerate bone loss—and even more so when wearers leave their dentures in continuously.
Dentures can also contribute to disease if they're not regularly removed and cleaned. Besides oral yeast infections, bacteria-laden dentures can contribute to the production of a protein called interleukin-6 produced by the white blood cells. If a significant amount of this protein passes into the blood stream, it can increase body-wide inflammation and foster a systemic environment conducive to serious diseases like pneumonia.
If you wear dentures, then, it's good for your health (oral and otherwise) to incorporate two practices into your daily life. The first is to remove your dentures at night while you sleep. Not only will this help slow the progression of bone loss, it will also give your gums a chance to rest and recover from denture wear.
It's also important to regularly clean your dentures, either with an antibacterial soap or a special denture cleanser. During storage, keep your dentures in clean water or a peroxide-based solution designed for dentures. This will reduce the accumulation of bacteria on your dentures that can cause disease.
Dentures restore the dental function and smile appearance that a person loses with their teeth. Taking care of your dentures (and giving your mouth a daily rest from them) will help promote good oral and general health for you and a longer life for your dentures.
If you would like more information on denture care, please contact us or schedule an appointment for a consultation. You can also learn more about this topic by reading the Dear Doctor magazine article "Sleeping in Dentures."
By M. Kenneth Johnson, DMD, PA
May 15, 2018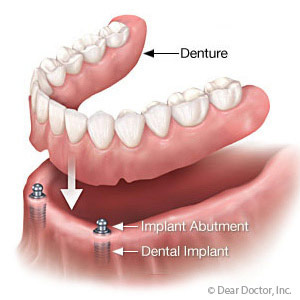 For generations, dentures have helped people avoid the dire consequences of total teeth loss. Now, implant technology is making them even better.
Composed of life-like prosthetic teeth fixed within a plastic or resin gum-colored base, dentures are manufactured to fit an individual patient's mouth for maximum fit, comfort and performance. But dentures also have a critical drawback—they can't stop bone loss in the jaw.
Bone is constantly regenerating as older cells dissolve and then are replaced by newer cells. In the jawbone, the forces generated when we chew travel through the teeth to the bone and help stimulate this new cell growth. When teeth are missing, though, the bone doesn't receive this stimulus and may not regenerate at a healthy rate, resulting in gradual bone loss.
Dentures can't transmit this chewing stimulus to the bone. In fact, the pressure they produce as they rest on top of the gums may actually accelerate bone loss. Over time then, a denture's once secure and comfortable fit becomes loose.
In the past, most patients with loose dentures have had them relined with new dental material to improve fit, or have new dentures created to conform to the changed contours of the jaws. But implant technology now offers another alternative.
Implants are in essence a tooth root replacement. Dentists surgically implant a titanium metal post directly into the jawbone that naturally attracts bone cells to grow and adhere to it over time (a process called osseointegration). This not only creates a secure and lasting hold, it can also stop or even reverse bone loss.
Most people know implants as single tooth replacements with a porcelain crown attached to the titanium post. But a few strategically placed implants can also support either removable or fixed dentures. Removable dentures (also called overdentures) usually need only 3 or 4 implants on the top jaw and 2 on the bottom jaw for support through built-in connectors in the dentures that attach to the implants. A fixed bridge may require 4-6 implants to which they are permanently attached.
There are pros and cons for each of these options and they're both more expensive than traditional dentures. In the long run, though, implant-supported dentures could be more beneficial for your bone health and hold their fit longer.
If you would like more information on implant-supported dental work, please contact us or schedule an appointment for a consultation.